Welcome To Saini Diesel Power Service Pvt Ltd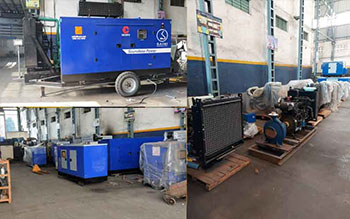 A Silent Diesel Generator is a power generating unit that is designed to work during power cuts to continuous the power supply and to prevent total blackout conditions. The generator is very much important for industries, factories and commercial setups, which need a power backup and where even a single minute of power cut can cause many issues. If you are looking for a company to buy them, Saini Diesel Power Service Pvt Ltd - one of the best Silent Diesel Generator Manufacturers in Surat, Gujarat got you covered. Our offered range is precisely designed and manufactured following strict industry guidelines and available at industry-leading prices.
Advantages Of Silent Diesel Generators:
Fuel Efficiency: Silent Diesel Generator has a lower per-hour cost than other systems available because of their fuel-efficient feature. Also, it is known to produce more power.
Low Maintenance Need: They don't have any specific spark plugs in their engine and therefore, they have low upkeep demand throughout their service life.
Well-Built: These are designed to last for years and years and ideal for constant operations and can withstand tough conditions.
Call Us Now!
If you are interested and want to discuss any specific demand, feel free to call us. Being one of the well-noted Silent Diesel Generator Dealer and Suppliers in India, we promise that you will receive timely delivery along with our customer support. Reach us to get in touch now.